Mihai Mirodone (47 years old) is a Yumeiho therapist, member of the Romanian Yumeiho Society and a therapy instructor accredited by the Japanese Yumeiho Centre. His story with the Yumeiho Japanese therapy started more than ten years ago, when he suffered from severe hip pain.
Mihai Mirodone was given a terrible diagnostic fifteen years ago: femoral head necrosis, with the recommendation for surgery and prosthesis of the femoral head. He refused the surgery back then, starting to look after various alternative therapies. This is how he found the Yumeiho therapy. After a few sessions, his hip pain ameliorated, his body posture was better and his general physical and mental state improved. He decided that he would become a practitioner of this therapy and, since then, he has helped thousands of people, either curing various conditions they had or improving their health, from back pains to serious bone problems or spine deformities. "I have always liked Japanese philosophy, based on correctness, respect, cleanliness and ethics, to mention just a few of their life principles," says Mihai. He learnt from one of the best Yumeiho therapists in the world, Sensei Sorin Iuga, President of the Romanian Yumeiho Society. Yumeiho is a therapeutic method based on manual actions on the entire body in view of preserving or improving health. It consists of about 100 manoeuvres performed on the entire body of the patient, by methodically applying a complex set of manual procedures (massage, Osteoarticular manipulation) and physical exercises, with the aim of re-establishing the functional balance of the human body, thus eliminating or ameliorating a wide variety of disorders which may result both in acute diseases and chronic pains. After his personal Yumeiho experience, Mihai wanted more and thought that he could also apply what had functioned for him. "If it worked for me, perhaps it is going to work for others as well. I thought about the people around me at first, and then about the others," says the therapist. Gradually, more and more Romanians started to visit his Yumeiho therapy centre for recovering or improving their health, especially for bone issues or back pains. He gave up his job at the Romanian Railroads Company to inaugurate the first health centre in Galati, and the success he had prompted him to start a second one, after a few years. It was not at all easy, because people don't know much about this Japanese therapy, and those who looked it up on the internet found things that were not entirely true about Yumeiho. "When they watch a video with dangerous procedures performed under the name of Yumeiho, because the internet is full of such materials lately, people become reserved. Many people don't want to endure what we call manipulations, more complex manoeuvres, choosing just the simpler ones. What they need to understand is that Yumeiho therapy does not mean that the first thing you do is to start "snapping" or manipulating the patient. There are situations in which the therapist considers those manoeuvers inappropriate," Mihai Mirodone explains.
He corrects the organism imbalance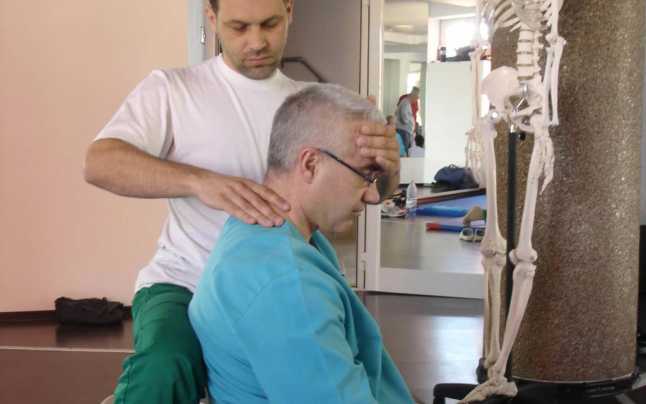 Yumeiho is a therapy of postural readjustment of the body by which patients obtain improved mobility and elasticity. "Yumeiho therapy does not cure anything, it does not act strictly on a problem. It is not like the patient comes with a disease and we act on it directly. Yumeiho is a holistic therapy, which means that we treat the patient from head to toes. I try to adjust the patient's posture physically because many health issues of the people who come to us originate from the incorrect posture of the spine and hip bones. When such incorrect postures occur, they are accompanied by irritations of the nervous tract, which, in turn, may affect the internal organs," the therapist explains. His view is supported by physicians who practise allopathic medicine. "Allopathic medicine is based on the doctor's diagnostic and a treatment based on medicine. In homeopathic medicine, the treatment is based on natural substances and plants, while complementary therapies are based on massage, movement or relaxation. All these three therapies can coexist and be used for acquiring favourable results in what a person's health is concerned, but we should not claim that one is better than another. This is why they are called complementary therapies: they complement an allopathic therapy. We, just like the medical doctors, are trying to explain people that we are not opposed to such alternative therapies, but that they need to be cautious when they address such practitioners, to make a distinction between competent professionals, trained to obtain favourable results, and people who are only after financial gains to the detriment of other people's health. Alternative therapies must be used cautiously, only after we have been given a clear diagnostic of our condition," says Valentin Boldea, GP. Mihai adjusts the organism imbalance by using his therapy, ameliorating conditions and even "healing" his patients in many cases. He avoids using the word "healing" because a patient may be cured physically, his or her health may be maintained, but the condition, especially if it is chronic, does not disappear. "The disease information remains in the body but it does not manifest," the Yumeiho instructor comments. The techniques he uses may act on certain internal organs, especially in the abdominal area, because they are more accessible, but they do not specifically target this area. An observation, although it heals many conditions (or precisely because of this reason), Yumeiho therapy is not and should not be considered a panacea
The disease most often treated with the help of Yumeiho therapy

Many patients who come to see Mihai are tired, stressed and tensed, with many diseases that they have lived with for some time, because they are generally too static, too sedentary. After one session, they usually complain of muscle soreness. "It's a weird thing to say that you've got muscle soreness after one massage session. Except that Yumeiho is not a massage, as some have so wrongly understood, and the therapy determines a reaction from the body, which confirms that the treatment was good and that it has changed something inside the patient," the therapist claims. This is where the therapist must step in and explain every patient the reactions that may occur after having the Yumeiho manoeuvres applied on them, although many tend to forget or don't pay attention. Mihai has laid his hands on thousands of people in the ten years of practicing this Japanese therapy, most of them with ruptured intervertebral disc (herniated disc), and he has always advised them to accept the therapy applied to the entire body, not only to the damaged area or organ, because the effect will be whole. People come to see him because they feel their legs tired or have back pains, and are surprised to see how good they feel afterwards. What some fail to understand is the fact that, if they repeat the previous mistakes – related, for instance, to their posture while sitting at the desk – and they do not carry on exercising as maintenance therapy, their problems will return and perhaps become more serious. "When you work on the cervical area, for example, the blood input improves, ensuring a higher amount of nutrients and oxygen to the brain, which will function better than before. It is very important," says Mihai.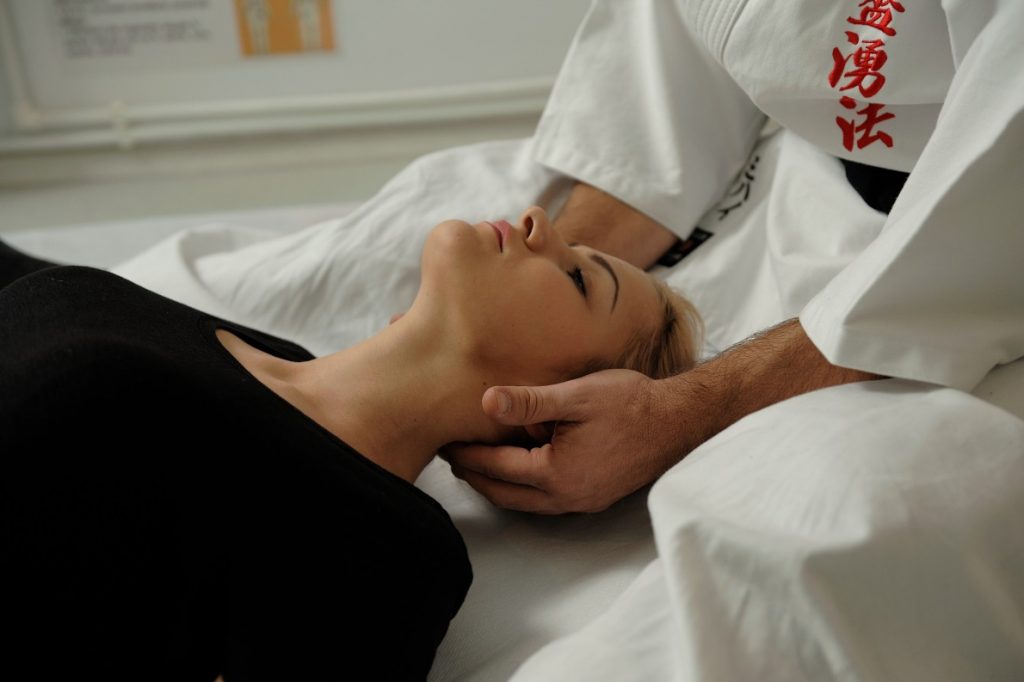 Many patients come to the Yumeiho therapy sessions out of curiosity or pushed forward by their families or by their condition and are surprised to see, after only one session, that not only is their health improved, but also their tonicity. "Yumeiho is quite challenging, physically, for the therapist. He shares his health to give his patient a state of wellbeing. What some patients don't understand is that they don't pay for health, but the therapist who helps them recover does," the therapist confesses. More and more Romanians have resorted to alternative therapies during the last years, and in the case of Yumeiho therapy, a great advantage is the fact that it is non-invasive and the patients can obtain tangible results from the very first session. "This is the reason why I have applied this therapy for so many years – because I have noticed that the results are spectacular and quicker than other therapies that I have also tried myself. There are situations in which I am unable to help a patient, if their conditions are more severe or at an advanced stage which cannot be addressed by alternative therapies. In such cases, I always refer them to specialised medical doctors," says Mihai. He has many plans for the future, one of them being that of making the Yumeiho therapy known as it is, without pointless exaggerations, because the techniques is entails are primarily prophylactic, useful to many people, with the role of preventing the occurrence of imbalance and the onset of diseases, and also that of preventing the exacerbation of already existing conditions.
Source:
https://adevarul.ro/locale/galati/ce-tehnica-recuperare-yumeiho-romanul-spune-c-a-pus-picioare-mii-oameni-printerapia-japoneza-1_5bffea51df52022f75f0f1e0/index.html?fbclid=IwAR1qkasXxeHVOMOMVrN0k9sXGRH097B1K819jNfOYem9xllFsz4wSNLifFE#photo-head